Lakeland, FL – It was a Cincinnati Reds and Daytona Tortugas kind of night at the 58th Annual Florida State League All Star Game.  The North All-Stars, led by All Star MVP and Reds' 25th ranked prospect Gavin LaValley (according to MLB.com's Reds Top 30; he was 39 on Jeff Manning's Reds Top 50 update in February) beat the South All-Stars 5-2 Saturday night.  LaValley crushed 2 long home runs to plate 4 runs.  Both home runs were preceded by LaValley's teammate and the Reds' 13th ranked prospect (according to MLB rankings, 25th on Jeff's list), Shed Long's 2 singles.  Long finished the game 2-2 with 2 runs and displayed a smooth line drive stroke.
In terms of prospect firepower, LaValley and Long overshadowed the Red's top prospect Nick Senzel.  Senzel started the game at third and hit 6th.  He went 0-1 with a BB in 2 plate appearances.  The North's 5th run of the night was driven in by Tortuga's catcher, Chris Okey, the Reds' 13th ranked prospect (Reds' #12 on Propects1500).
The Tortugas weren't the only players that shined tonight.  Randy Arozarena of the Palm Beach Cardinals was named the HR Derby champ after blasting 4 bombs in the 1st round.  The Derby which ended prematurely due to rain also featured outstanding displays of power from Phillies prospect Drew Stankiewicz, Jhoan Urena of the Mets, Casey Hughston of the Pirates, and Arvicent Perez of the Tigers.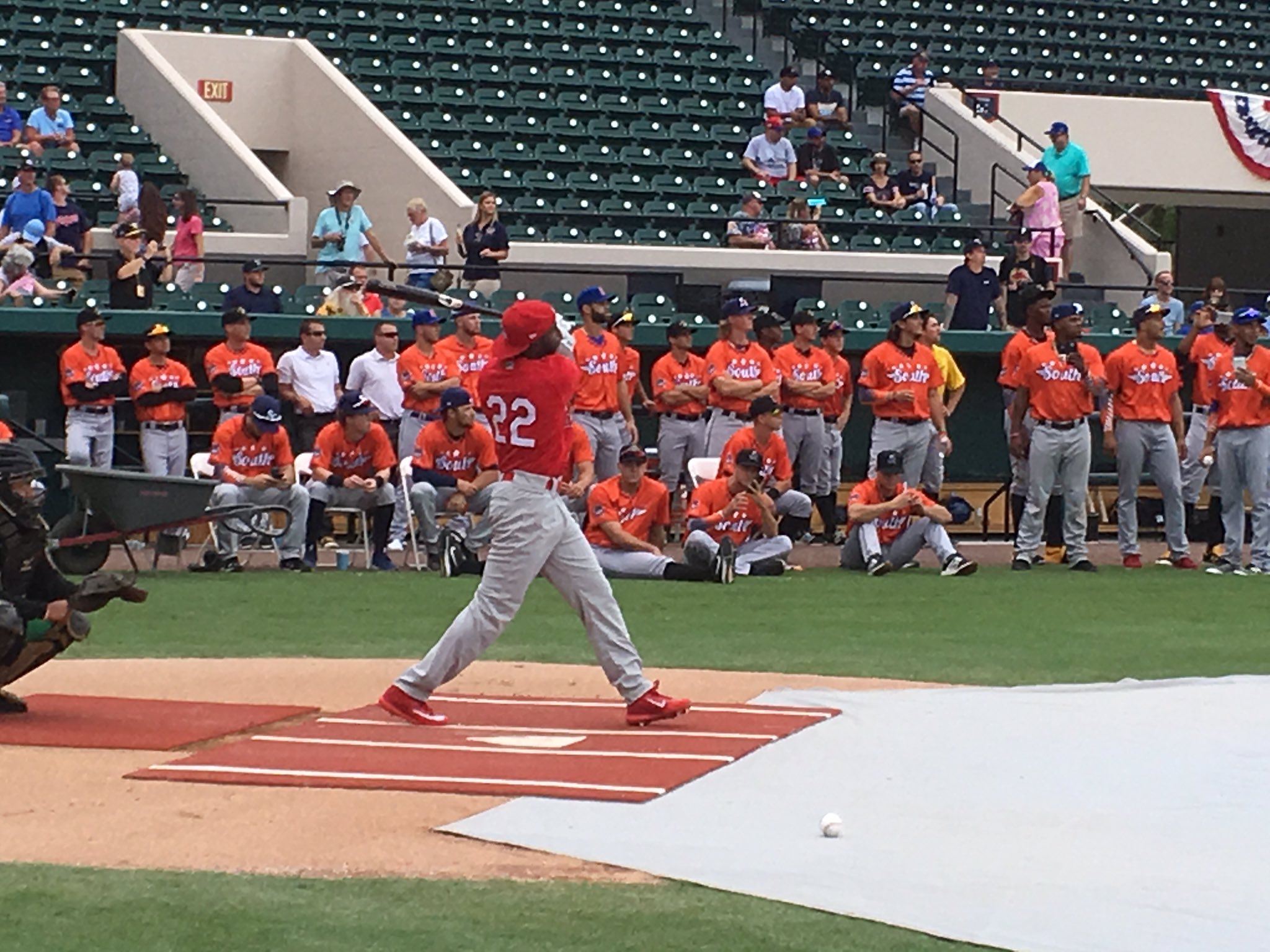 Tampa Yankees relief pitcher, Andrew Schwaab, proposed to his fiancee after she threw out the first pitch.  Schwaab pitched 1.1 IP and escaped 2 bases loaded jams.
Pirates 1st round picks Will Craig and Ke'Bryan Hayes finished the game a combined 0-3.
The Tigers Gerson Moreno (13th),  Reds' Tanner Rainey (26th), Cardinals' Junior Fernandez (10th) all lit up the radar gun hitting 99-100 mph on the mound.
Phillies Jose Taveras started the game for the North while Pirates Pedro Vasquez started for the South.  Taveras was credited with the win.
Here's the box score and MiLB.com's wrapup of the 2017 Florida State League All Star Game
a-Walked for Kelley in the 4th. b-Flied out for Hughston in the 6th.
BATTING
2B: Hill (1, Irvin); Cronenworth (1, Schwaab).
TB: Cronenworth 3; Rodriguez, J; Hill 2; Mazeika.
RBI: Rodriguez, J (1).
2-out RBI: Rodriguez, J.
Runners left in scoring position, 2 out: Kelley; Hughston 2; Craig 2.
Team RISP: 2-for-11.
Team LOB: 9.FIELDING
E: Cronenworth (1, throw).
a-Singled for Mateo, J in the 5th. b-Singled for Long in the 5th. c-Flied out for LaValley in the 7th.
BATTING
HR: LaValley 2 (2, 1st inning off Vasquez, P, 1 on, 1 out; 3rd inning off Rodriguez, 1 on, 2 out).
TB: LaValley 8; Long 2; Biggio; Castro, C; Stankiewicz.
RBI: LaValley 4 (4); Okey (1).
2-out RBI: LaValley 2.
Runners left in scoring position, 2 out: Castro, C 2; Davidson; Neslony.
SF: Okey.
Team RISP: 0-for-4.
Team LOB: 6.FIELDING
E: Rodriguez, H (1, throw); Riley (1, throw).
Game Scores: Vasquez, P 37; Taveras 47.
WP: Bashlor; Kinley.
HBP: Craig (by Dowdy); Arozarena (by Gomez, A); Rodriguez, H (by Kinley).
Pitches-strikes: Vasquez, P 34-25; Rodriguez 11-7; Brentz 15-9; Bashlor 14-9; Zamora 5-5; Kinley 4-2; Montero 8-4; Fernandez, J 5-5; Clay 10-4; Taveras 13-8; Irvin 13-8; Harrington 7-6; Dowdy 27-12; Schwaab 31-19; Johnson-Mullins 1-1; Moreno, G 6-5; Rainey 9-6; Watts 12-9; Gomez, A 2-1; Singer 4-4.
Groundouts-flyouts: Vasquez, P 1-1; Rodriguez 2-0; Brentz 1-0; Bashlor 0-0; Zamora 1-1; Kinley 0-2; Montero 0-1; Fernandez, J 0-0; Clay 0-0; Taveras 0-1; Irvin 1-1; Harrington 1-0; Dowdy 0-0; Schwaab 1-1; Johnson-Mullins 1-0; Moreno, G 0-1; Rainey 1-1; Watts 0-1; Gomez, A 1-0; Singer 3-0.
Batters faced: Vasquez, P 8; Rodriguez 5; Brentz 4; Bashlor 4; Zamora 3; Kinley 3; Montero 3; Fernandez, J 3; Clay 2; Taveras 3; Irvin 4; Harrington 4; Dowdy 5; Schwaab 7; Johnson-Mullins 1; Moreno, G 2; Rainey 3; Watts 3; Gomez, A 2; Singer 4.
Inherited runners-scored: Zamora 2-0; Kinley 1-1; Fernandez, J 1-0; Schwaab 3-0; Singer 1-1.
Umpires: HP: Jose Navas. 1B: J.C. Velez. 2B: Derek Thomas. 3B: Reid Joyner. LF: Greg Roemer. RF: Sean Shafer-Markle.
Weather: 75 degrees, rain.
Wind: 10 mph, Out to LF.
First pitch: 7:52 PM.
T: 2:46 (:52 delay).
Att: 3,553.
Venue: Joker Marchant Stadium.
June 17, 2017
Article featured image of Gavin LaValley, Shed Long & Nick Senzel – courtesy Jason Woodell/@JasonAtTheGame