I waited over a year for this night and it finally came to be on April 13th.  Dunkin' Donuts Park in Hartford finally hosted its first AA baseball game (as Colorado's AA affiliate Yard Goats hosted Toronto's AA New Hampshire Fisher Cats) and it was an honor to be there.  I'm not going to get into why the park wasn't ready last year and the fact that Hartford played their entire season on the road (you can read the news stories about that elsewhere), but I would like to give everyone a snapshot of the park (some Pros and some slight Cons) and also spotlight some of the key prospects who were in action on #OpeningNight.
Dunkin' Donuts Park features:
Pro – Love the big digital scoreboard in left field!
Con – The scoreboard didn't put up any in-game statistics for players.  Most fans like to know what a player has done in his previous times up a bat, whether he's 0-4 with 3 Ks or 3-4 with a HR, 3B and 4 RBI.  Attention Yard Goats scoreboard operators. Please add in-game and season player statistics to the scoreboard.  This picture is from the top of the 8th inning and you can see what I'm talking about.  An easy fix to add stats to this screen.

Pro – Very nice Dunkin' Donuts Park sign proudly on display for downtown Hartford to see when you're walking up to the ballpark.
Con – From inside the park you see the back of a big metal something.  Couldn't this have been designed a bit differently to have something facing the inside and the thousands of spectators looking at it each game?

Pro – Yard Goats starting lineup is posted inside the gate in the main concourse with large photos of each player.
Con – There is no mention or list of the visiting team's lineup anywhere until the lineups are announced to the stadium minutes before game time.  This is a standard feature that most minor league ballparks I've been to do have posted for everyone to see when they're entering the park.  Another easy fix!


Pro – Huge 24 oz. beers for $10 (domestic) or $12 (premium)!
Con – Not a huge variety of beers after your typical Bud, Bud Light, Coors but a few of the premium options (Sam Seasonal) are worth it.  Umm, nope.  Sorry.  Don't have a photo of my beer but yes it was very refreshing!
Pro – Bear's Smokehouse BBQ concession deck.  Bear's is a local Windsor Locks, CT eatery that has amazing wood smoked Kansas City BBQ fare.  They have a great spot behind the seats on the 3rd base/left field side serving up their specialties.  If you go don't miss the Mac Attack – BBQ pork over mac & cheese.
Con – No con here!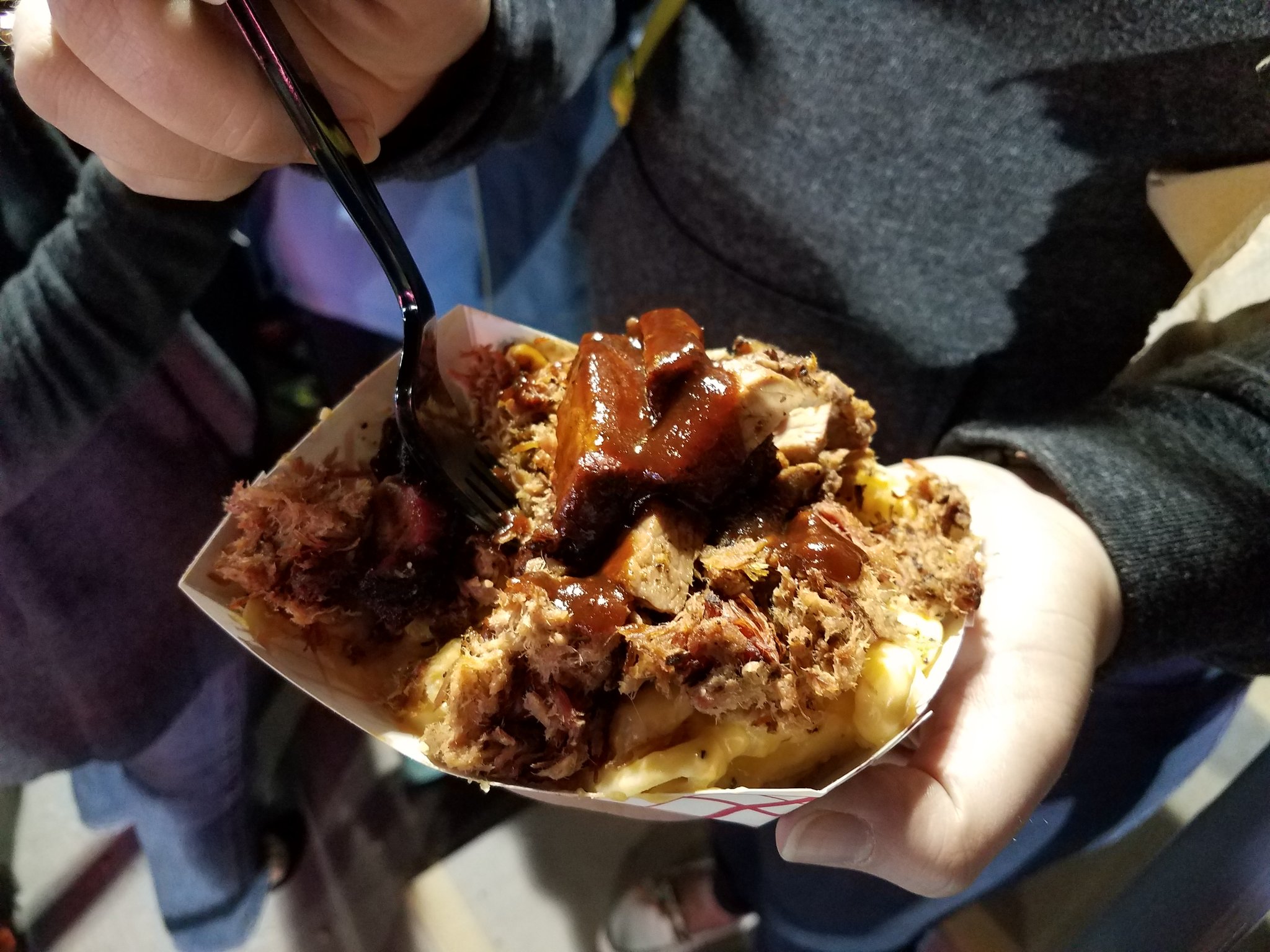 Pro – They've already created their own unique hashtag.  I used it several times on Opening Night. #NoGoatsNoGlory.  Nice.  Get used to that one folks.
Con – Not much use of other social media on the big scoreboard to show fans in attendance or even the popular #TweetYourSeat contest found at many other major and minor league ballparks.

These are just a few Pros-Cons that I can recall from Opening Night as I was with my kids and several other friends.  I'll be attending several other games in the coming weeks and will be able to report back on these and anything else I find that could be of interest to the general public and our Prospects1500 readers.
Now to look at some of the Yard Goats players and which Colorado Rockies top prospects are starting the year off in Hartford:
Ryan McMahon, 3B (#8 prospect on Rockies MLB Pipeline.com, #6 on P1500's Rockies Top 50).
McMahon started at 3B in the three hole in the lineup.  He's since played at 2B this season as well as the Rockies might want to see how he does there.  Not much room in that Rockies infield anyway right now with Arenado, Story and LeMahieu.
Dom Nunez, C (Rockies MLB Pipeline #12, Prospects1500 #17)
Nunez is one of the Rockies top catcher prospects and it will be good to see him in action this year.  He didn't start on Opening Night in Hartford but had played in the previous three games at Harrisburg and was hitless, so this was a night off for him.
Ryan Castellani, P (Rockies MLB Pipeline #7, Prospects1500 #15)
Castellani is one of Colorado's top SP prospects and has thrown in 4 games already this season.  After 168 innings in A ball last year it will be interesting to see how he matures in AA this year.
Yency Almonte, P (Rockies MLB Pipeline #16, Prospects1500 #13)
This kid was very impressive Opening Night in Hartford! He has some pop on that fastball and from where we were sitting down in left field, the stuff looked pretty good.  His line that night vs. New Hampshire was 5 IP, 3 H, 2 ER, 3 BB, but 8 K.  I would like to follow that up with the line from his next outing which happened a week later on April 20 at home against Harrisburg. 7 IP, 4 H, 0 ER, 0 BB, 10 K.  Now that's definitely someone I hope to see pitch again.
Parker French, P (Rockies MLB Pipeline #24, Prospects1500 #34)
French is coming off a full season in A ball, similarly to Castellani.  Three starts so far this year in Hartford, one very good (7 IP, 4 H, o ER, 6 K), one good start (6 IP, 6 H, 1 ER, 0 K) and one not-so-good appearance (3.1 IP, 6 H, 4 ER, 3 BB, 2 K).  A mixed bag but one to watch and hopefully more good innings than not.
New Hampshire Fishers Cats players who were in action that are Toronto Blue Jays top prospects:
Anthony Alford, OF (#3 on Blue Jays MLB Pipeline, #1 on Prospects1500 Blue Jays Top 50)
So I'm expecting to see some breakout performance type numbers like a Moncada or Betts when I saw them play in Portland.  Didn't get that on this night with Alford (0-4 with 3 Ks) but he has the tools to be a star in Toronto sooner than later.
Sean Reid-Foley, P (Blue Jays MLB Pipeline #2, Prospects1500 #2)
Reid-Foley didn't pitch on this evening and has gotten off to a slow start in 2017 (4 games, 3.97 ERA, 1.76 WHIP) but he is putting up the strikeout numbers which is good to see with 13 K in 11.1 IP.
Conner Greene, P (Blue Jays MLB Pipeline #6, Prospects1500 #11)
Greene did start this game opposite Hartford's Almonte so it was a nice pitching matchup for my first game at DDP.  What I saw was a mixed bag, at some times looking overpowering but at others, very hittable and/or erratic.  His line that night was 5 IP, 4 H, 2 ER but had 4 BB and 7 K.  Currently his 3.52 ERA and 1.17 WHIP are what Blue Jays fans should be happy about.
Reese McGuire, C (Blue Jays MLB Pipeline #11, Prospects1500 #12)
McGuire is a former top catching prospect and 1st round draft pick for the Pittsburgh Pirates in 2013 (selected 14th overall after they took Austin Meadows 9th overall).  He now hopes to play well enough to earn a promotion to AAA Buffalo and compete for a chance to backup Russell Martin in Toronto.  Again, no eye popping performance on DDP's Opening Night for me to salivate over as he went 0-3 with an RBI.
All in all it was a wonderful night at the new ballpark.  If you're anywhere near Hartford, CT definitely check out a Yard Goats game at Dunkin' Donuts Park.  I know I have several more games already on my calendar with some upcoming battles against my beloved Portland Sea Dogs in early May, a Guys Night Out "Party Deck" event on May 20 when the Akron Rubberducks are in town, and then a Syracuse University Alumni Club of CT and Western Mass event in late June.
Go Yard Goats! #NoGoatsNoGlory
President of Prospects1500. Commissioner of Diamond Duos dynasty fantasy baseball leagues. Founder of MLB Fantasy Playoffs Parlay. Participant in more than a dozen other dynasty/fantasy baseball leagues. Account Manager for Reminder Publishing in real life. Huge Bruce Springsteen and pro wrestling fan. Along with his wife and two boys, lives in Longmeadow, MA. Follow on Twitter at @Scotty_Ballgame.