It can be tough to gather the news these days from any MLB team's alternate sites. The games there are unofficially scored, the best of the best aren't necessarily challenged to become better at their craft, and both sides of the ball might not be giving it 100% effort. That being said, it's important to still keep track of whatever is happening and then on your own make your personal assessments. About a month ago, during the team's Summer Camp, manager Rocco Baldelli said:
"Our guys can really play. We have future Major League talent. Guys that truly have the ability to be above-average, impactful players and help us hopefully win a lot of games. Those are the kinds of guys that we have. So to see them do things out in the field, it's not surprising, it's more fun, and you get to really enjoy watching good young players."

Here are some specific notes about my personal favorites from this talented group.
Trevor Larnach, OF
This week's St. Paul Player Pool Player & Pitcher of the Week are Trevor Larnach and Danny Coulombe. "They both put in work all week at CHS Field, Larnach hitting dozens of BP balls into the Mississippi River… Coulombe threw electric bullpens all week, turning a lot of heads."

— Seth Stohs (@SethTweets) August 9, 2020
I'm very excited for Larnach and his talent. That being said, the outfield is set right now for the 2020 Minnesota Twins, and it looks difficult for anyone to get a spot on that roster. The only opening I see right now is Byron Buxton.
I've mentioned it before, but I could see the Twins almost giving up on him (Buxton) if he doesn't produce the way they originally hoped. So far so good in 2020, but it hasn't yet been with confidence and consistency. He is set for Arbitration next year, and I can't see them coming close to an agreement on financial terms if he struggles to finish the season or if he gets injured. He is starting to remind me of what the New York Yankees might be feeling about Aaron Hicks, though Buxton is the faster player of the two. As of this writing, he is batting .125 against fastballs, a pitch he batted .221 against in 2019 and .146 against in 2018. Again, though, health remains the issue.
Getting back to Larnach, he has excelled since being drafted by the Twins, and really came into his own in 2019. He can hit the ball all over the field and hit for power. With a 15.2 K%-BB%, as well as a career .307 batting average in the minors, I can see him making his way to the Twins in 2021 either breaking in at camp, or, more likely, around the All-Star Break. He's a special talent that doesn't need to be rushed, so some seasoning in AAA is probably best before any Major League action. His ground ball rate could use some improvement too. Either way, he's awesome.
Alex Kirilloff, OF
Alex Kirilloff hit a bomba off Michael Pineda this afternoon.#MNTwins pic.twitter.com/WL6PkYudip

— Tom Froemming (@TFTwins) July 17, 2020
Anyone who has followed me has known my love and affinity for Alex Kirilloff. He's a special talent, and I'm not the only one who thinks so. After having struggled last season to stay healthy, Kirilloff impressed mightily at Summer Camp, just like his opposite field blast in the clip above. Like Larnach, Kirilloff spreads the ball all over the field as well, as evidenced by his 33.9% Opposite Field Rate in 2019. He doesn't possess the power that Larnach does, but he strikes out less, shows patience at the plate and is more polished than Larnach. If Miguel Sano continues to struggle at the plate this year, I could see Kirilloff getting a chance to play, (and I'm not alone), but ideally, a 2021 debut looks to be more in the cards, as an improved line drive rate would help him at the plate.
Travis Blankenhorn, 2B/OF
For anyone thinking that Travis Blankenhorn might get the call up for some infield depth, this just happened just recently: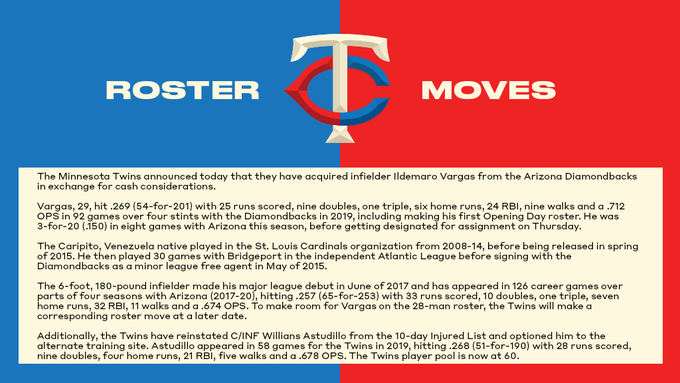 While Ildemaro Vargas isn't going to necessarily set the world on fire, it does produce yet another body in front of Blankenhorn, and possibly cement the fact that the Twins have no plans to call him up unless they absolutely have to. Vargas, despite a .150/.190/.150 line (as of this writing), has made appearances all over the infield this year and over his career and is an above average fielder.
Still, I can't help but wonder what Blankenhorn would have done had he gotten the call. While he did improve a ton in 2019, as evidenced by his 18 home runs and 11 stolen bases in AA ball, his 18.3% K%-BB% is concerning as he only took 18 walks all season. He has some upside to produce and contribute, but I can't blame the Twins for going with someone with Major League experience to help them secure another American League Central title.
Jorge Alcala, RHP
Jorge Alcala 98 mph fastball.#MNTwins pic.twitter.com/8l9VGHCNyv

— Tom Froemming (@TFTwins) August 6, 2020
Called up to the Twins earlier in August, Alcala has looked very solid in his limited amount of action, as he's recorded eight strikeouts in only five innings of work. While his current strikeout rate of 44.4% is very unsustainable, it's encouraging to see numbers similar to the MLB average Whiff rate out of him and some good movement on both his fastball and sinker. More Major League in-game reps should give him the confidence he needs to be a good mid-inning relief arm for the Twins come playoff time.
Dave Funnell covers the Minnesota Twins minor leagues for Prospects1500. Located just south of Toronto in the city of Hamilton, he's an hour away from Buffalo (and the Bisons). He's been a fan of baseball his entire life and doesn't have a favorite team, which hopefully gives way for objectivty in analysis. Dave is in multiple keeper fantasy baseball leagues and is active on Twitter at @sportz_nutt51.